Living in Central Florida your home is at risk from a number of natural things such as hurricanes, lightning, flooding, sinkholes, and tornados. Natural disasters are not the only thing that put your home at risk, a grease fire in the kitchen has burned many homes to the ground over the years. Faulty electrical wiring can be the source of a fire, and old natural gas lines have caused entire homes to be leveled by an explosion.
With so many ways your home could be damaged, and your property lost forever, it is crucial that you create a home inventory list. Having a detailed inventory of your possessions can make things easier when you file a claim, and it can also guide you on what kind of coverage you want.
Creating a Home Inventory List
Creating a home inventory list to submit to insurance is not a difficult thing to undertake, but you can't cut corners when creating the list and still hope to receive reimbursement for your lost property. Here are a few steps.
Chose a Starting Point
You should follow Nike's advice when deciding on which room should be your starting point when composing a list "Just do it." The room does not matter; what matters is that you start the process of compiling a list of your possessions. The logical choice would be a room with items which are the most valuable; but it really does not matter, what matters is you have started creating your list.
Documenting Property with Apps
In the digital age, we currently live in documenting your possessions has never been easier or had more ways you can capture them. Apps like Sortly, Memento and Nest Egg can help you create list organize them and record details about each item on the list. These apps use your phone's camera to add pictures to the list.
Apps are preferable to creating a physical list for two reasons. First, your phone is portable and likely to be on your person when you flee whatever disaster is damaging your home. Second, an app stores your list in the cloud, should you lose your phone in a fire or other emergency, you can log in to the app from another phone and retrieve your list. Be sure to include serial numbers, purchase dates, photos of receipts (if you have them), SKU numbers. With the technology available now there is no reason that your possessions should not be fully documented.
Lock Insurance has its own app that has an inventory list built into it. Our agents have access to the data in the app and they can send the list for you to the insurance company in the event of a claim.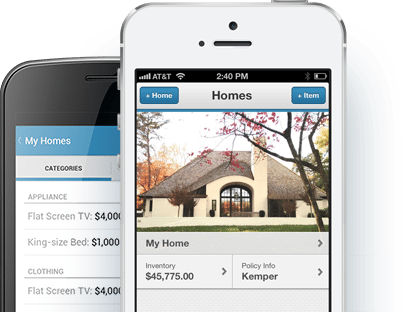 Download the Insurance Agent mobile app below:
Make Sure Your Coverage Matches the Value of Your Possessions
Things like art, jewelry, antiques, and collectibles may have increased in their worth and will require individual coverage apart from your standard homeowner's insurance. You should research these items value and speak with your agent about coverage before they are lost to a disaster.
Don't Forget the Attic and Garage
When documenting your possessions, it is easy to forget the attic or garage. Your tools, exercise equipment, golf clubs, and other valuable items may all be stored in your garage. Antiques and your children's old toys may be stored in the attic, so don't forget to climb up there and document items.
Clothes Count
Remember to document your clothes along with your other possessions. Record how many of each article of clothing you own such as jeans, shoes, and shirts. If you have a coat or other item of clothing that is valuable, be sure to record details about it.
Document Storage
Items in your rented storage unit may also be covered by home insurance, ask your agent to be sure if your policy covers them.
Keep it Safe
When it comes to financial documents, family photos, and other important documents, be sure to store them in a fireproof safe or safety deposit box. Make sure to include a copy of your list as a backup to your home inventory app.
Creating a home inventory list doesn't have to be a monotonous chore; it can be quick and easy if you just follow the above suggestions.
Should you have any questions about home inventory list, contact us via email here or call us at (863) 646-LOCK.